Our Training Programs

Who We Are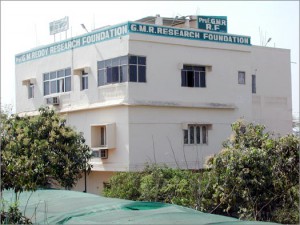 We, G. M. Reddy Research Foundation (GMRRF), introduce ourselves as a non-profit autonomous Research Organization registered in December 1995 by the Govt. of Andhra Pradesh and recognized by Department of Scientific and Industrial Research (DSIR), Department of Science and Technology, Govt. of India, New Delhi in August, 1997 as Scientific and Industrial Research Organization (SIRO). Situated at Swaroop Nagar, Hyderabad (10 Kms from Osmania University Campus) on a one acre land (8,000 sft), well connected by roads with GMRRF bus stage.
Being a growing institution, we affirm our commitment to the following principles:
| | |
| --- | --- |
| | Serve the cause & well-being of the farmers. |
| | |
| | Improve the employment opportunities of rural poor through technology transfer and "Know how" of conventional modern biotechnological innovation allied with participatory technology development. |
Mission
To integrate frontier technologies with traditional farmer's wisdom for upgrading economic status & quality of life of farmers & the rural poor.
Recognized by Osmania University to carry out research work leading to the award of PhD in Botany / Genetics, many research scholars are actively pursuing their PhD programs at the centre. So impressive has been the quality of our work that is disclosed well in the shape of many notable projects of reputed institutions. Allied with this is our philosophy to integrate frontier technologies with traditional Farmer wisdom and scientific temper in upgrading economic status of common man, farmers and rural poor.
In the quest to unveil many aspects of the Life we have also extended our research arm towards the fields of Human Genetics and Microbiology. With well-developed labs, modern biotechnological equipment and determined Scientific Team, we are in a position to cater the demand of any contingency. Our goal is to move along the road of excellence towards a brighter future and prosperity of the society at large.